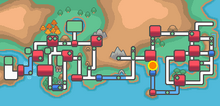 Route 1 is a route in western Kanto, connecting Pallet Town and Viridian City.
Catchable Pokemon
M = Morning (04:00 - 09:59)
D = Day (10:00 - 19:59)
N = Night (20:00 - 03:59)
Walking
Using Headbutt
Trainers
Youngster Bill

Rattata

Lv.5
Bulbasaur
Lv. 5
You can obtain Rattata Hairs in this route by using Covet or Steal on a wild Rattata when your Pokemon is holding nothing or by catching the Rattata. There is a small chance that the Rattata will be holding Rattata Hair so not every Rattata will have it.