World Map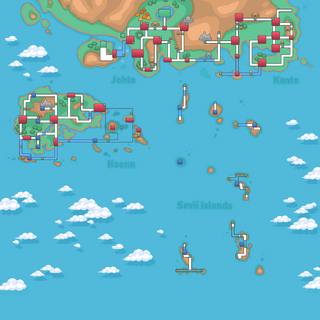 The Pokémon world that is currently available in PRO consists out of 3 main areas. Kanto, Johto and Hoenn. Aside from that there are also smaller area's available. Those being: the Sevii Islands, Love Island and the Valley of Steel. The latter would technically be considered part of Hoenn.
Kanto is the first region. This is where you will start your adventure. lol
Johto is the second region in the story. You need to beat the Kanto Elite 4 to enter. All pokemon caught in the Kanto region will be locked until you have gathered all 8 Johto badges.
Hoenn is the third region in the story. You need to beat the Johto Elite 4 and then beat Youngster Joey who will only accept your challenge after presenting him a Ratatta lvl80+ of which you are the original trainer. All pokemon caught in both Kanto and Johto will be locked again until you have gathered all 8 Hoenn badges.
Minor Regions
Edit
Sevii Islands
Edit
Love Island
Edit
Valley of Steel
Edit
Ad blocker interference detected!
Wikia is a free-to-use site that makes money from advertising. We have a modified experience for viewers using ad blockers

Wikia is not accessible if you've made further modifications. Remove the custom ad blocker rule(s) and the page will load as expected.