Mt Moon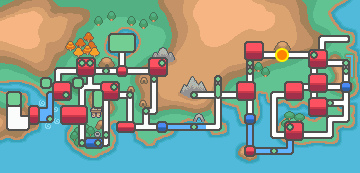 Mt. Moon is located east of route 3 and west of route 4
Catchable pokemon
Edit
| C = Common | U = Uncommon | R = Rare | VR = Very rare |
| --- | --- | --- | --- |
M = Morning (04:00 to 09:59), D = Day (10:00 to 19:59), N = Night (20:00 to 03:59).
1F:
B1F:
B2F:
1F:
TM 09 - Take Down
Paralyze Heal
Potion
Escape Rope
Moon Stone
B1F:
Star Piece
TM 12 - Water Gun
B2F:
You have to choose between Helix Fossil and Dome Fossil after defeating the Trainer guarding them.
Antidote
Trainers
Edit
1F:
B1F:

B2F:
Ad blocker interference detected!
Wikia is a free-to-use site that makes money from advertising. We have a modified experience for viewers using ad blockers

Wikia is not accessible if you've made further modifications. Remove the custom ad blocker rule(s) and the page will load as expected.