Venusaur

The Seed Pokémon
Information
Number
3
Type
Abilities
Overgrow

Chlorophyll (Hidden)

Thick Fat (Mega Venusaur)

Height
6'07" 2.0 m

7'10" 2.4 m - (Mega Venusaur)

Weight
220.5 lbs. 100.0 kg

342.8 lbs. 155.5 kg - (Mega Venusaur)

Leveling rate
Medium Slow
EV yield
+2 SpAtk +1 SpDef
Venusaur is a dual-type Grass/Poison Pokémon. It can Mega Evolve.
Locations
Leveling Moves
Abilities
ABILITY
DESCRIPTION
Overgrow
Powers up Grass-type moves in a pinch.

Chlorophyll

(hidden)

Boosts the Pokemon's Speed in sunshine.
Pokedex
After a rainy day, the flower on it's back smells stronger. The scent attracts other Pokemon.
Mega Evolve
Venusaur evolves into Mega Venusaur by holding Venusaurite during battle.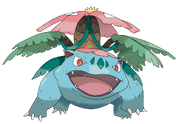 Venusaurite locations:
Gained ability:
| Thick Fat | Ups resistance to Fire- and Ice-type moves. |
| --- | --- |